CLEARWATER, FLORIDA
THE MAJESTY OF SCIENTOLOGY: OUR 21ST CENTURY CATHEDRAL
NOVEMBER 17, 2013
10,273 Scientologists.
One perfectly poised ribbon.
One ceremonial stage.
Welcome to the crowning accomplishment at the top of our Bridge.
"My fellow Scientologists, the best on the planet now awaits you. For the doors to your Flag Building are open and I officially invite you to cross the threshold to a whole new world." —Mr. David Miscavige, Chairman of the Board Religious Technology Center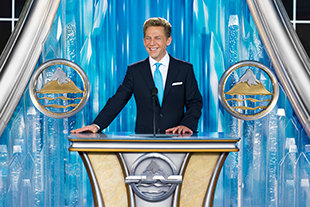 This is Scientology's spiritual headquarters—the majestic Flag Building—an architectural and technical triumph culminating an era of unprecedented growth for our religion.
All began with the launch of the crusade in the name of Ideal Organizations, now spanning five continents. What followed was the recovery of the very foundation of Scientology and the Golden Age of Knowledge; next, the recovery of every L. Ron Hubbard Introductory Route at the entrance gates to the Bridge; and then, nothing less than the recovery of the Bridge itself from bottom to top, ushering in our Golden Age of Tech Phase II.
SEE ALSO: Golden Age of Tech Phase II: The Entire Scientology Bridge
It truly is a golden age complete, with the release of L. Ron Hubbard technical breakthroughs never previously available—the Super Power and Cause Resurgence Rundowns—and the opening of the Flag Building, the Ideal Org of Ideal Orgs.
Here is a place of learning, a place of wisdom and a place of spiritual freedom transcending any known realm. Here is a place where we can now realize L. Ron Hubbard's vision for a better world at a magnitude commensurate with the technology itself.
This is the cornerstone of that new and better world.
This is the majesty of Scientology.
This is our cathedral.
_________________
Read what Scientologists said about the grand opening of their new spiritual headquarters:
"Stunning! It is not just beautiful, but it is also the delivery lines that are in place and the tech embedded within these walls just makes it all cohesive and perfect. The whole building is magnificent!"—I.T.
"The building is absolutely awesome. It is our cathedral. It takes function and gives it its ideal form. It represents exactly what the Scientology staff does with the technology. When it comes to architecture, this building could not get better. It's heaven."—M.B.
"Today we have accomplished goals set out by LRH many, many years ago. On many levels—with the Golden Age of Tech Phase II now here, with the ideal building for Flag, the release of Super Power and everything else. It is just phenomenal. I can see that with this, we are working into infinity. Literally! I am very proud to be here today and honored to have been a part of this. I am honored to be a part of the Scientology movement and on board with COB. ALL THE WAY."—T.D.
"This is the culmination of what we have all postulated and worked on. It is a true representation of LRH tech. I could really see the embodiment of his tech in the building. It is exquisite!"—J.D.
"Just the perfection of it and how the flows go exactly per LRH is totally outstanding. The building is awesome and that is an understatement. Thank you to COB RTC and LRH."—K.R.
"This is the essence of efficiency, it's totally beautiful. It is the proper space to get services. With this level of efficiency, you can tell that all the lines are really A to B. It is the perfect space for everything that just got released."—D.D.
"This building is a true example of what Scientology is."
"People used to build cathedrals like this, but this time it's a new technology and a new religion. Amazing! Throughout history there have been many monumental structures that represent the level of civilization. This building is a true example of what Scientology is."—T.M.
"Mission Accomplished! It ties everything together. It is not just a place for auditing or training—it is a cornerstone for planetary clearing. The only thing comparable to the discovery of Dianetics and Scientology, is the ability to take it into infinity—and that's what this building represents."—M.F.
"The attention to details is breathtaking. I have been a public at Flag since 1990 and where we have gotten to now is spectacular. The tech is pure. Golden Age of Tech Phase II is literally going to be piercing the planetary reactive mind and it's going to create huge expansion. I have no words to describe how much I admire the Chairman of the Board and how grateful I am to him and his team for what they are doing. He is an incredibly stable terminal and we all trust him as he has proven, really proven, that he is serious about getting the job done."—A.B.
"I am so proud to be a Scientologist in this moment in time. This place is mind boggling. The Chapel is very moving for me. The Factors written on the glass side walls have such an effect!"—P.C.
"A cathedral is always special and aesthetic—and this is our cathedral. With the new Flag Building, the order of magnitude has changed immensely. We as a group have become a lot stronger and this is due to our leadership—COB RTC is deeply admired for his dedication and thoroughness in bringing us LRH tech!"—G.R.
"After walking through the new building I know that everything has now come together in the right order of magnitude to make an everlasting, positive effect on the planet."—A.D.
"I so loved the Perceptics Rundown area! It's like a gate into a whole new world. This building really means that the future of Scientology and this planet is guaranteed. I would like to say THANK YOU!"—L.L.
"This whole weekend was the most spectacular experience of my life. This was a thousand times more incredible than anything I could have imagined. I wept as soon as I stepped into the lobby. Every detail is so aesthetic and stunning. It's an ultimate aesthetic."—K.P.
"From the second you walk in those doors… you're met with utter perfection."
"This is phenomenal, all the way—from the second you walk in those doors, through the lobby and through every single space, auditing room, hallway and office, you're met with utter perfection. Perfection in terms of aesthetics and organizationally. I can't WAIT to do Super Power! I am ready!"—C.J.
"It's an ideal of an Ideal Org. Absolutely incredible! It is our cathedral. It is now our time."—G.P.
"The Flag Building means spiritual freedom for all. This building makes everything we want to accomplish possible."—K.B.
"I can't believe this space! It is so beautiful and so aesthetic. The attention to detail is unreal. I love the Dianetics and Scientology symbols in every auditing room."—M.N.
"I've been in Scientology for 42 years and I've never experienced anything so thrilling and epic and brilliant! I am so proud!"
"The aesthetics of the building are incredible. Its design, its architecture and its timeless museum are gorgeous! The Flag Building means the future! Planetary clearing is now totally reachable. I've been in Scientology for 42 years and I've never experienced anything so thrilling and epic and brilliant! I am so proud!"—C.W.
"The details and just exactly how everything is thought through stand out the most. The Flag Building really does mean a whole new world. It is a game changer. Nothing can stop us now."—S.G.
"This Flag Building means eternity for Scientology. It will affect the future as it is a fabulous example of just how much Scientology is flourishing and prospering."—K.F.
"I've been in Scientology since 1973. This is a milestone in the expansion of Scientology, which is hugely significant for me, my family and Mankind. This will truly impact our future. Thank you a million times to COB RTC!"—P.B.
"This is the epitome of perfection and Standard Tech. It's another example of Keeping Scientology Working and leaving no stone unturned when it comes to the delivery of LRH tech. I love the overall aesthetics and workability of this org. This is beyond my wildest dreams. Everything in the Perceptic Center was mind blowing. I really want to do Super Power! Overall, this is a perfect, ideal scene!"—W.B.