DETROIT, MICHIGAN
MADE IN DETROIT: NEW CHURCH OF SCIENTOLOGY NOW STANDS AT THE CORNERSTONE OF MOTOR CITY, USA
OCTOBER 14, 2018
Recovering from tough times, the Midwest metropolis is on its way back, and now proudly welcomes spiritual technology in a new Church at the downtown core.
Detroit—America's love of cars was born here; Motown, the sound of her music was formed here; and World Boxing Champion Joe Louis, one of her first African-American sports heroes, was from here.
Once the nation's fourth most populous city, home of the most successful industry in the country and site of some of the largest peaceful civil rights demonstrations in the nation's history, led by Rev. Martin Luther King Jr., Detroit has also seen troubled times.
But just like native son and heavyweight champ Louis, Detroit was down, but not out. Now, it is "America's Comeback City," as scores of locals and believers from all over are showing faith in the Motor City, determined to put the mojo back into Motown.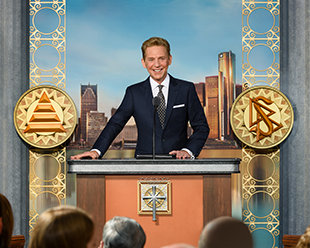 Today the drive to "take back Detroit" is fueled by a fiercely contagious pride, and the Church of Scientology is a vibrant part of the engine powering that effort. A presence in the city since 1963, it was on a bright fall Sunday in mid-October that a crowd of more than 2,000 gathered at Jefferson Avenue and Griswold Street downtown to celebrate a glorious new Church come to life.
Mr. David Miscavige, the ecclesiastical leader of the Scientology religion, led the dedication ceremony to officially open her doors. In his opening address, Mr. Miscavige spoke to the magnitude of the moment and exactly what this new Church of Scientology symbolized. Namely, "not a revolt, not a wish to change any Man's religion, but the hope that Man can find his own feet in this highly confused and mechanistic world. And if he can do so, then perhaps he can also recover the happiness, sincerity, love and kindness with which he was created."
"You Can't Hurry Love" as the song goes, but for all those in attendance there was "Dancing in the Streets." The grand opening pulsed into motion with the iconic sounds of Motown and quickly segued into a variety of community and civic leaders extending congratulations.
The backdrop of the grand celebration was the eight-story Church of Scientology just east of the 150 West Jefferson skyscraper and directly across from Detroit's Hart Plaza. The location is a true cornerstone—site of the first building in Fort Pontchartrain—which would later become the city of Detroit. While, to add further meaning to the story, that inaugural building was also the city's first church, constructed in 1701.
Today, the magnificent 55,000-square-foot landmark that occupies No.1 Griswold Street dates from 1927. Working with local artisans, the Church meticulously restored the landmark's intricate details—from her ceiling murals and brass details adorning her neoclassical interiors, to the exterior limestone and ironwork designed by Corrado Parducci—a man who has practically defined the face of downtown Detroit—not to mention the building's corner clock that has been a familiar face to residents for over 50 years. As the Church of Scientology Detroit, the facility now stands poised to continue the religion's history of service to America's capital of courage and character.
Indeed, the work of the Church and Church-sponsored organizations has long been established here, from the distribution of thousands of The Truth About Drugs booklets, to a Way to Happiness movement blanketing city streets with thousands of copies of L. Ron Hubbard's common sense guide to better living, in addition to Scientologists partnering with local legislators supporting freedom of religion.
Among area leaders on Sunday who welcomed the Church to its new facility were Steven Spreitzer, the President of the Michigan Roundtable for Diversity and Inclusion; Hubert Roberts, Mentor Director of the youth empowerment project InvolvedDad; Civil Rights Attorney Allison Folmar; and Artina Hardman, Michigan State Representative of District 3 (ret.) and current Executive Director of city resource center Mack Alive. All spoke of their enduring experiences working with members of the Church of Scientology.
Mr. Spreitzer, President of the Michigan Roundtable for Diversity and Inclusion, spoke to the momentum the newly dedicated facility adds to the city's rejuvenation: "Our relationship began 15 years ago when we formed the Washtenaw County interfaith forum. And ever since, you've been a gem. Because you came with humility and an inspiring conviction to hear what the community has to say. You've done it across inner cities of America, and now it's time for downtown Detroit… So yes, you are already inspiring hope right here at this cornerstone of the city."
Mr. Roberts, Mentor Director of the youth empowerment project InvolvedDad, reflected on how the Drug-Free World program has impacted his work with local youth: "I started lecturing in schools and at transition houses to men returning home from prison. It was after I met one of you, I started in with the Truth About Drugs. Now when these young minds see real-life stories of other people, well that's the combination code to unlock their insecurities. They become more comfortable and they start thinking: 'I can identify, and I am struggling with drugs.' You see the click in their minds and they let you in.… Yes, we are emboldening, we are engaging and we are emancipating the youth of Detroit."
Ms. Allison Folmar, a Civil Rights Attorney active in protecting parental rights, spoke to the impact that CCHR is having on curbing psychiatric abuse across her city and state: "I like to think of CCHR as a rescue mission operation. I've said it before and I'll keep saying it, it's CCHR to the rescue. They are the watchdog of the psychiatric industry, and that's not my opinion, that's gospel truth. They have the facts to counter the lies, and they've armed us with those facts. Since the beginning, CCHR has said 'We've got your back.' And through every case I've fought to release a child from psychiatric incarceration, we have won their freedom."
And finally, speaking to the power of The Way to Happiness combined with the spirit of Detroit, Ms. Artina Hardman, Michigan State Representative of District 3 (ret.) said: "Every citizen in this country should have a copy of The Way to Happiness. I'm telling you, it is just that good. It is a guiding light to live by. Yes, Mr. Hubbard has shared his wisdom with us. And this magnificent Church of Scientology now stands as a sanctuary to share that wisdom again and again. So, as we all come together at this grandest of openings today, we celebrate a bright new resurgence for Detroit—the Miracle City!"
---
Upon entering the new Church of Scientology Detroit, visitors are welcomed by a Public Information Center presenting an introduction to Dianetics and Scientology. Its displays, containing more than 500 films in 17 languages, share the beliefs and practices of the Scientology religion and the life and legacy of Founder L. Ron Hubbard.
The Information Center also presents the many humanitarian initiatives that Scientology supports, including their worldwide human rights education campaign; far-reaching drug education, prevention and rehabilitation program; global network of literacy and learning centers; and the Scientology Volunteer Minister corps, which has become one of the world's largest independent relief forces.
Detroit's Chapel provides for Scientology congregational gatherings that include Sunday Services, Weddings and Naming Ceremonies, as well as a host of community-wide events such as banquets, seminars and workshops, open to members of all denominations.
The Café offers a place to mingle for those attending events, as well as for parishioners during breaks in their Scientology services.
The new Church allows for the delivery of all Introductory Services. These include afternoon, evening and weekend Dianetics and Scientology seminars, imparting an overview of fundamental principles and their application for living, as well as an array of Scientology Life Improvement Courses to help better any aspect of one's life.
Also featured are well over a dozen specially appointed rooms providing the ideal setting for Scientology auditing (spiritual counseling). Multiple course rooms are also dedicated to training auditors (spiritual counselors) and for Scientologists studying the technology of auditing; and all to help others attain spiritual freedom. The new facility welcomes both Scientologists and those interested in learning more about the Church of Scientology.
---
This opening of the new Detroit Church of Scientology powers forward a period of expansion for the religion, with nearly 70 new churches of Scientology in global cities—from Los Angeles to London, Bogotá to Berlin and Tel Aviv to Tokyo.
In just the past year, new Churches of Scientology have opened in Dublin, Ireland; Birmingham, England; Amsterdam, Netherlands; Johannesburg North, South Africa; Salt Lake City, Utah; Silicon Valley, California; Perth, Australia; Orlando, Florida; and Stuttgart, Germany.
More Church openings are planned in the coming months for cities in Europe, North America, Latin America and Africa.