STUTTGART, GERMANY
FREEDOM REIGNS AS THE CHURCH OF SCIENTOLOGY STUTTGART KICKS INTO GEAR
SEPTEMBER 9, 2018
In the home of the automobile and at the core of Germany's industrial heartland, a new Church of Scientology drives the opportunity for social betterment and spiritual advance.
Lying between the Black Forest to the west and the Swabian Alps to the south, Stuttgart sits astride the Neckar River, running through the city's valley known as "The Cauldron." Rolling hills and scenic vineyards dotted with mammoth sequoia trees encircle this German powerhouse city, famous for hosting cultural and culinary festivals, in addition to producing world-renowned luxury cars.
Sunday, September 9, marked a union of modern energy and classic history when more than 2,500 Scientologists and guests came together for the grand opening of a new Church of Scientology for Stuttgart.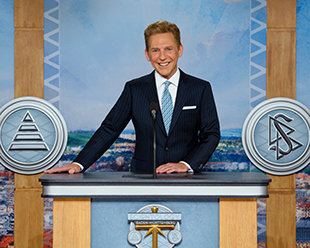 In light of this historic moment, Mr. David Miscavige, ecclesiastical leader of the Scientology religion, said: "Today, we inaugurate Germany's grandest Church of Scientology and a home befitting this anchor of a nation. It stands for the fact nothing is greater than the pursuit of wisdom… And nothing more enduring than dignity and freedom. In that respect, this Church embodies the very Aims of Scientology: 'A civilization without insanity, without criminals and without war, where the able can prosper and honest beings can have rights, and where Man is free to rise to greater heights'… And so, we open our doors."
With exactly that passion, the opening celebration kicked off with a traditional song and dance—a tribute to Stuttgart's cultural heritage and its pride as a national leader in the performing arts. The music then switched to a rock and pop beat as a rousing chant filled the air, "Here's to us—to now and forever." That spirit of hope and expectation carried through to the remarks of local dignitaries who spoke of the impact this new center will have when helping Stuttgart face a host of problems.
Indeed, while the city's population is thriving, drugs, crime and other social pitfalls continue to be deep-seated concerns; and the Church has been at the frontline of social betterment and humanitarian campaigns to counter their advance.
In just the last few years, the Stuttgart Church has supported the "Say No to Drugs—Say Yes to Life" initiative, educating people about the dangers of drugs by distributing The Truth About Drugs booklets, hosting drug prevention open houses, airing public service announcements and producing films that encourage children and teens to sign a drug-free pledge. In all, Drug-Free World Stuttgart has reached more than 250,000 with their Truth About Drugs message.
The Church has also enlightened over 70,000 residents from Baden-Württemberg state on the perils of psychiatric drug abuse through the work of the Citizens Commission on Human Rights, a nonprofit watchdog group founded by the Church of Scientology. Alongside that is the Church-sponsored program United for Human Rights, which furthers rights for all people; and The Way to Happiness, a common sense guide to better living, also unrelentingly active across the region.
So it is that each of these activities demonstrates the dedication and fervent commitment of Scientologists to help bring about greater awareness and humanitarian drive to Stuttgart and her citizens.
As such, the city's new Church of Scientology is exquisitely designed and was appointed to serve as a hub to connect with community partners as well as to provide services for the growing number of Scientologists. A standout facility, the impressive 78,000-square-foot Church is located on one of the city's main thoroughfares, Heilbronner Strasse.
Welcoming Scientologists to their new home was a diverse array of noteworthy civic and religious leaders. They included: Mr. Samir El Midani, Advisor to the Stuttgart Interfaith Center; Ms. Jirina Hlasivcova, youth drug education counselor, Center for Drug Prevention and Therapy; Dr. Elke Preusser-Franke, President of the Jewish Women's Association of Germany; and Human Rights Attorney, Mr. Alexander Petz.
Mr. El Midani told how partnering with local Scientologists has been pivotal in furthering religious tolerance and peace amongst different faiths: "My congregation was not accepted for their beliefs, but instead were blocked out by our community. But while many ignored the smoke, you didn't run from the fire—you ran toward it. You immediately helped us create an information campaign to 'fill the vacuum' on who we are as a religion and what we believe. And thanks to your actions, our community not only embraces us, we have become a point of pride," he said. "When people ask me to describe what Scientologists are like, I tell them: 'Imagine an extremely intelligent person… who offers friendship and approaches living with an unmistakable sense of idealism.'"
Ms. Hlasivcova said the scourge of drug addiction has taken a heavy toll on Stuttgart schools and affected many German families, including her own: "Our generation is living in an oblivion designed and generated by drugs. Already in my life, because of drugs, I have loved and lost. With each hit my uncle took, he drifted away from us into the cold and a close friend suffered a heart attack. So my pain drove a deep passion inside of me to fight drugs…. And I've now been committed to creating a drug-free world with you for 8 years. Together, we've taken Truth About Drugs tours from Nuremberg to Leipzig, passing out more than 50,000 booklets in just 10 days. So yes, we are waking up a generation with Drug Education 2.0."
Dr. Preusser-Franke, President of the Jewish Women's Association, spoke of how her life has been impacted by the nonreligious moral code, The Way to Happiness written by L. Ron Hubbard: "I have been privileged enough to learn how The Way to Happiness precepts play out in life because I have experienced them through you and with you…. 'Setting a Good Example' as we gave countless passersby their Way to Happiness on the streets of Dresden, 'Seeking to Live with the Truth' as we held Holocaust awareness exhibits inside your Churches and 'Treating Others as They Want to be Treated' as you defended our rights at a city round table when others were refusing to hear what we had to say. So as you bring to life precept upon precept, you are teaching thousands how to act with humanity. And thus, from the northern shores of Hamburg to the southern fields of Munich—we will never forget the golden road of L. Ron Hubbard's The Way to Happiness."
While in tribute to the intense passion that underlined the ceremony, Human Rights Attorney, Alexander Petz recognized the grand significance of the day, in light of the milestone victories that helped secure it: "Together we have made history, not only for Scientology, but for society at large. We established the rights for any church or religious association to operate freely and without government interference under the Constitution. Our faith in the legal system was justified, because we protected freedom of religion for all Scientologists, for you, and created precedents to safeguard the rights of all and religious freedom for every faith in Germany. So let this new Church of Scientology stand as a symbol of freedom, for all people here in this city, this region and across all of Germany!"
---
As visitors enter Stuttgart's new Church of Scientology they are struck by a palette of steel blue, chrome and greys that mirror the city's high-tech identity. The facility's pale highlights mixed with mahogany wood combine to give a calm, welcoming aspect to the Public Information Center where an introduction to Dianetics and Scientology is presented. Its displays, containing more than 500 films in 17 languages, share the beliefs and practices of the Scientology religion and the life and legacy of Founder, L. Ron Hubbard.
The Information Center also presents the many humanitarian initiatives that Scientology supports, including their worldwide human rights education campaign; far-reaching drug education, prevention and rehabilitation program; global network of literacy and learning centers; and the Scientology Volunteer Minister corps, which has become one of the world's largest independent relief forces.
Stuttgart's Chapel provides for Scientology congregational gatherings that include Sunday Services, Weddings and Naming Ceremonies, as well as a host of community-wide events such as banquets, seminars and workshops, open to members of all denominations.
The Café offers a place to mingle for those attending events, as well as for parishioners during breaks in their Scientology services.
The new Church allows for the delivery of all Introductory Services. These include afternoon, evening and weekend Dianetics and Scientology seminars, imparting an overview of fundamental principles and their application for living, as well as an array of Scientology Life Improvement Courses to help better any aspect of one's life.
The Stuttgart Church also features dozens of specially appointed rooms providing the ideal setting for Scientology auditing (spiritual counseling). Multiple course rooms are also dedicated to training auditors (spiritual counselors), for Scientologists studying the technology of auditing, and all to help others attain spiritual freedom. The new facility welcomes both Scientologists and those interested in learning more about the Church of Scientology.
---
The opening of the new Church of Scientology Stuttgart continues an unrelenting growth period for the religion with nearly 70 new Churches of Scientology from Los Angeles to Tampa, London to Milan, Tel Aviv to Tokyo and Kaohsiung to Bogotá.
In the past year, openings of new Churches of Scientology have taken place in Dublin, Ireland; Birmingham, England; Amsterdam, Netherlands; Johannesburg North, South Africa; Salt Lake City, Utah; Silicon Valley, California; Perth, Australia; and Orlando, Florida.
More Church openings are planned for future months in global cities across Europe, Latin America, North America and Africa.