PERTH, WESTERN AUSTRALIA
DOWN UNDER'S "CITY OF LIGHTS" WELCOMES NEWEST CHURCH OF SCIENTOLOGY
MAY 5, 2018
Perth may be far-flung, but the city's can-do, entrepreneurial spirit is a perfect match for the world's fastest growing, and coolest, new religion.
Take the most remote major city in the world, sandwiched between largely empty vistas of oceans and deserts; add in wave after wave of hardy and hearty pioneers from England, Scotland, Italy, China, Vietnam, Greece and a score of other ethnic homelands; cook all of that in with the gung-ho, can-do spirit of Down Under; throw in battalions of gold prospectors and diamond miners; sing a couple of bars of Waltzing Matilda, add a kangaroo or two and you have the setting for the planet's newest Church of Scientology: Perth, the capital and largest city in Western Australia.
The new light in this "City of Lights" is just one block away from the Great Eastern Highway, a mere fifteen minutes from the Perth city centre and located by the famous Swan River that is home to the majestic black birds after which the river is named. It is here more than 1,000 Scientologists and their guests—some crossing thousands of miles to reach Perth—gathered on Saturday, May 5, 2018 to celebrate the grand opening of a new Church of Scientology.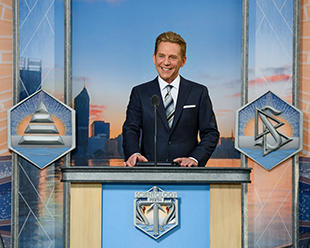 Mr. David Miscavige, the ecclesiastical leader of Scientology, trekked 9,000 miles to reach Perth. He told the grand opening celebrants that he'll soon embark upon a ribbon-pulling trek across another 20,000 miles. But, for Perth, Mr. Miscavige proclaimed: "This is the NOW for which you have been waiting."
As he led the dedication ceremony, Mr. Miscavige spoke of Scientology's new future in Western Australia. "And with that, we step out of Dreamtime to realise the final dream before that ribbon falls… Which is to say this is now the time to bring our help wholeheartedly and indiscriminately. For only in this way, this new Church of Scientology both serves Perth and becomes Perth."
Mr. Miscavige has spearheaded a period of unprecedented growth with the opening of 65 new Churches in recent years. Perth marks number 66. These Churches set a standard defined by Mr. Hubbard and carried out by Mr. Miscavige, which envisions every Church as a perfect expression of the religion's principles and practices, including its many community outreach and humanitarian programmes.
On the southwest corner of Australia, Perth is isolated and hard to reach—it's quicker to fly there from Bali than from Sydney. The closest Australian city to Perth is Adelaide, more than 1,300 miles away on the continent's south coast.
Perth's isolation has made it a formidable city where the motto is "Floreat," Latin for "flourish" or "prosper." That hasn't been lost on Scientologists. After all, a famous urging by Mr. Hubbard was that one and all should "flourish and prosper."
In that very spirit the Church's grand opening was inaugurated with the traditional Australian national anthem, "Advance Australia Fair," followed by a rousing rendition of a local victory song, which echoed the bold and enterprising spirit of Perth Scientologists.
While Perth's population is prosperous, like any city its drugs, crime and other social pitfalls are ever-present factors. The city's Church of Scientology—established more than 60 years ago—has been at the forefront of social betterment and humanitarian campaigns.
Scientologists have distributed tens of thousands of copies of the Church-sponsored The Truth About Drugs booklets. The Citizens Commission on Human Rights, also sponsored by the Church, waged a successful campaign in recent years to stop barbarous psychiatric practices, including the sterilization of people deemed "mentally ill."
Other Church-sponsored programmes—The Way to Happiness, a common sense guide to better living; and United for Human Rights, which fosters those rights for all people—are also intensely active in Perth and Western Australia.
All those activities reflect the hard and enthusiastic work by Scientologists to help build a great city and culture in Perth. And the city's citizens have noticed.
Blue-ribbon speakers and celebrants represented Perth's civic, cultural, educational, law enforcement and business communities. Speakers included Mr. Steve Hansen, member of the Business Council of Western Australia; Dr. Bernard Doherty, Professor of New Religious Movements, School of Theology at Charles Sturt University; Dr. Jaya Krishnan, a physician and fellow of the Australian Natural Medical Association and Mr. Paul Shiel, founder of a charity partnership, Medal Missionaries Community.
In a city where success and achievement are bywords, Mr. Hansen spoke of his success in growing his company from five to 42 locations—all because of L. Ron Hubbard's administrative technology. "If anyone else asks 'why should I use Admin Tech?' I'll tell them: 'Because it gives you the right answers.' The point is the technology works 110% of the time. I believe that it can benefit any business, anybody, anywhere. I think the opportunity for this Church is fantastic and I am most fortunate to be amongst some fabulous and well-trained people. Here any citizen can discover whatever they need to design and fulfill their own personal dreams. And that means a massive impact across Western Australia."
Dr. Doherty cited the pioneering work by the Church-sponsored Citizens Commission on Human Rights in combatting psychiatric abuse. "Right here in Western Australia there have been deep issues," the professor said. "Worst among them is local kids being given prescription drugs against their will, and even worse, threatened with ECT [electro-convulsive therapy] as young as 11 years old. This is not just a crime, it is morally unconscionable." But Dr. Doherty also spoke of Church-sponsored solutions to combatting that crime: "You set about an information campaign that is evidence-based and you met with West Australian MPs [Members of Parliament] to expose the shocking truth. And ultimately, you brought about a permanent ban of ECT on minors, thereby safeguarding the most vulnerable citizens!"
Dr. Krishnan spoke about how Scientology emphasizes the spiritual element of people, something lacking in modern medical science. "I believe the Church of Scientology is the solution to give Mankind the answers for them to handle life and better themselves," said Dr. Krishnan. "I have seen your dedication, your passion for uplifting others and your values for protecting every citizen in Perth. It gives me great honour and hope knowing I have a Church that I can send people to, knowing they are going to become a better person with the answers they have been seeking," Dr. Krishnan emphasized. "And so, with this grand ceremony, let's awaken the human spirit and create a great change for Perth and all of Western Australia!"
Mr. Shiel, of the Medal Missionaries Community, spoke about the need for charity work even in a thriving city such as Perth. His organisation partners with the Church of Scientology in finding solutions for those trapped by drugs, alcoholism and poverty. "I immediately recognised the tremendous capacity of the Church to give back," Mr. Shiel commented. "No matter the issue: drugs, human rights, morality—you come at it with a passion that is unparalleled. I have worked with humanitarian teams from the Nullarbor to the Kimberleys and the top of Darwin and I have never seen anything like your campaigns… It is Help with a capital H," he said. "Yes, that's the Church of Scientology—a humanitarian organisation across the boards!"
---
All approaching the new Church of Scientology Perth are welcomed by its striking façade. As parishioners enter the expansive space, they are greeted at the Reception with views of the Public Information Centre. The space is open with high ceilings and industrial-style lighting. Clean lines and blackened metal accents with warm rustic woods give a modern industrial feel throughout the entire space.
Visitors are provided with an introduction to Dianetics and Scientology, beginning with the Public Information Centre. Its displays, containing more than 500 films in 17 languages, present the beliefs and practices of the Scientology religion and the life and legacy of Founder, L. Ron Hubbard.
The Information Centre also details the many humanitarian initiatives that Scientology supports. They include a worldwide human rights education campaign; far-reaching drug education, prevention and rehabilitation programmes; a global network of literacy and learning centres; and the Scientology Volunteer Ministers corps, which has become the world's largest independent relief force.
Perth's Chapel is a grand, two-story space with cove lighting around the perimeter wall, creating an illusion of a floating ceiling above. It provides for Scientology congregational gatherings that include Sunday Services, Weddings and Naming Ceremonies, as well as a host of community-wide events such as banquets, seminars and workshops, open to members of all denominations.
The Café presents a meeting place for those attending events, as well as for parishioners during breaks in their Scientology services.
The new Church allows for the delivery of all Introductory Services. These include afternoon, evening and weekend Dianetics and Scientology seminars, imparting an overview of fundamental principles and their application for living, as well as an array of Scientology Life Improvement Courses to help better any aspect of one's life.
The Church further includes dozens of specially appointed rooms providing the ideal setting for Scientology auditing (spiritual counselling). Multiple course rooms are also dedicated to training auditors (spiritual counsellors), for Scientologists studying the technology of auditing, to help others attain spiritual freedom.
---
The opening of the new Church of Scientology Perth comes during a period of massive expansion for the religion with more than 65 new Churches of Scientology from Los Angeles to Tampa, London to Milan, Tel Aviv to Tokyo and Kaohsiung to Bogotá.
In the past year, openings of new Ideal Churches of Scientology have taken place in the San Fernando Valley, California; Miami, Florida; Copenhagen, Denmark; Dublin, Ireland; Birmingham, England; Amsterdam, Netherlands; Johannesburg North, South Africa, Salt Lake City, Utah and Silicon Valley, California.
Further Church openings are planned in 2018 in cities across Europe, Latin America, North America and Africa.