BOGOTÁ, COLOMBIA
COLOMBIA PASSIONATELY WELCOMES THE FIRST
SCIENTOLOGY IDEAL ORG IN SOUTH AMERICA
JULY 5, 2015
Bogotá's New Ideal Church is hailed as "one of the greatest things ever to happen to Colombia" during rousing, remarkable ceremony.
Continuing forward with the historic momentum that's fueling a period of vast expansion for the religion, the Church of Scientology cut the ribbon on a new Ideal Organization (Org), Sunday July 5, in the bustling city of Bogotá, Colombia. The first Ideal Org raised on the South American continent opened before an enthralled audience of some 2,500 Scientologists and inspired Colombian luminaries who traveled to the nation's capital from points throughout South America for the occasion.
A mood of resolute commitment and passionate unity pervaded the event, which demonstrated a stirring pledge from an impressive cross-section of Colombia's leadership figures to use Scientology to help foster peace and positive change throughout both the embattled nation and the wider world.
On hand to preside over the grand ceremony was Mr. David Miscavige, Chairman of the Board Religious Technology Center, who acknowledged the monumental impact of the moment: "Should any of you wonder how this day came to pass, well look no further than your own innate passion for humanity. For, this is a place where the nobility of a soul may finally be realized. Because, after all, this is a Scientology organization. And, yes, this is your first Ideal Org of South America and thus your eternal gateway to infinity."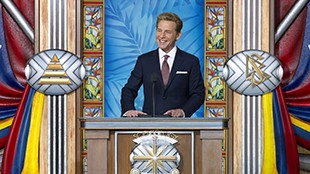 Nestled in a high-altitude cradle beneath the Andes Mountains at over 2,600 meters above sea level, Bogotá is a thriving metropolis of nearly 8 million. Its new 8-story Scientology Ideal Org stands prominently on the city's Calle 100 in the northern district of Usaquen. The ultramodern structure spans 48,000 square feet and sits in the center of the district's vibrant commercial and entertainment hub.
Dignitaries present at the ceremony literally spanned the top rung of Colombian military and law enforcement, with their participation evoking broad acceptance and unbridled enthusiasm. They were without exception impassioned to play key roles in the further embedding of Scientology's technology, tools and ideals into their nation's very fabric.
Joining the Scientology parishioners and Church officials were Lt. Colonel Anstrongh Polania, Chief of the Department of Joint Operational Law, Ministry of Defense; Lt. Colonel Carlos Peña, Coordinator for Anti-Drug Education, Colombian Anti-Narcotics Department; Captain John Galindo, Operations Director, Circle of Aid Technicians of Colombia (CINAT); Lt. Colonel Edgar Rojas, Special Ops Commander for Rural Zones, Colombian National Police; and Dr. Sandra Rincón, Advisor to the Ministry of Social Integration, Bogotá City.
"This Ideal Org represents a beacon of peace and sanity in the midst of a sea of confusion," remarked Dr. Rincón, in her welcoming address. "The social betterment activities you perform are invaluable and I must say you have arrived at the best possible time to this city."
Later, Dr. Rincón admitted to being overwhelmed by the sheer emotional energy generated during the powerful event. "I kept getting chills and watery eyes," she said. "I have no words to convey the depth of my appreciation in having the honor of being part of something so important for our Colombia."
The level of vigor that permeated the Sunday proceedings clearly exceeded even the typically electrifying experience that Ideal Org opening attendees have come to know. This was embodied in the awestruck words of one Bogotá Ideal Org staff, who was moved to observe, "This was a shiny, unforgettable day that will change the history of Colombia."
In highlighting Scientologists' extraordinary efforts in human rights across the nation, Lt. Colonel Polania during the event described a program "reaching down to the very foundation of our institution: the Colombian soldier. A program that, in a clear and understandable way, teaches the importance of respecting human rights. Working together we reached 100 percent of the Colombian Army in just 12 months."
Lt. Colonel Polania added that the incidence of human rights violations had recently dropped a stunning 98 percent among that same Army—an all-time low. He closed with, "In the name of the 500-thousand men who make up the Colombian Military Force: Thank you."
Reflecting on the influence of the Scientology Volunteer Minister Corps, Captain Galindo remarked, "When I first saw the Volunteer Ministers, what struck me was their deep humanitarian spirit and devotion to a grand goal—to bring real help. It was from that first moment I decided we must work together."
"The Way to Happiness is a spectacular tool," declared Lt. Colonel Rojas. "I read it, and re-read it. It changed the way I think. It keeps me motivated constantly and I want that for others. L. Ron Hubbard's wisdom has given me a route. And believe me, it is the checklist for life. Even when I am in the jungle, The Way to Happiness keeps me grounded." He also called the new Bogotá Ideal Org "one of the greatest things ever to happen to Colombia."
While Lt. Colonel Peña perhaps summed the occasion best when, in honoring Scientology Founder L. Ron Hubbard, he noted Mr. Hubbard "provided mankind with every possible tool for a full and happy life. By delivering us his legacy, you are helping make better people and creating a stronger Bogotá and a greater Colombia."
_________________
The new Bogotá Ideal Org provides all visitors with an introduction to Dianetics and Scientology, beginning with the Public Information Center. Its displays, containing more than 500 films, present the beliefs and practices of the Scientology religion and the life and legacy of Founder L. Ron Hubbard.
The Information Center also offers a detailed overview of the many Scientology-sponsored humanitarian programs. These include a worldwide human rights education initiative; a far-reaching drug education, prevention and rehabilitation program; a global network of literacy and learning centers; and the Scientology Volunteer Ministers program, now representing the world's largest independent relief force.
The Center is open throughout the day and evening for visitors to tour at their leisure and return as often as they wish.
Bogotá's Ideal Org also features a chapel that provides for Scientology congregational gatherings, including Sunday services, weddings and naming ceremonies as well as a host of communitywide events open to members of all denominations. The Ideal Org further includes multiple seminar rooms and classrooms, in addition to an entire floor dedicated to Scientology auditing (spiritual counseling).
_________________
The Bogotá opening continues an explosive growth period that finds the Church of Scientology operating more than 40 Ideal Orgs across five continents—most recently with the Ideal Org opening in Basel, Switzerland, some two months ago.
Indeed, Scientology has enjoyed greater expansion during the past decade than in the previous 50 years combined. And more is on the way, with openings in the coming year planned for cultural epicenters in Asia, Europe and North America.