QUÉBEC CITY, CANADA
NEW SCIENTOLOGY CHURCH IN THE
HISTORIC HEART OF FRENCH CANADA
JANUARY 30, 2010
Fifteen hundred Scientologists and their guests from across Canada and the United States packed the street in front of 665 rue Saint-Joseph in the heart of the Nouvo Saint-Roch district of Lower Québec City to attend the opening of the Church of Scientology of Québec/Eglise de Scientologie de Québec on January 30, 2010.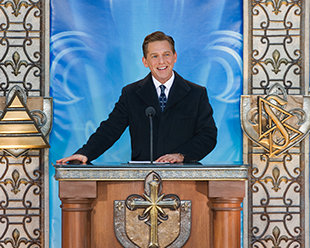 The opening of the 47,000-square-foot Church, which will serve parishioners from throughout the province, represents a significant milestone for the congregation, which was formed in Québec 35 years ago.
Mr. David Miscavige, Chairman of the Board of Religious Technology Center and ecclesiastical leader of the Scientology religion, presided at the dedication ceremony, welcoming the assembled Scientologists and guests to the new Church. His introduction was met with prolonged and enthusiastic ovation in appreciation for his instrumental role in making possible this new Church and all it represents for the future of Scientologists in Canada.
As Mr. Miscavige stated, "This new breed of Church is all in preparation for much more to come in the future. Well, that future is upon us now."
The Québec Church marks the beginning of a new chapter in Scientology growth across Canada, with new Churches to be opened in Montreal, Québec; Kitchener, Ontario; Winnipeg, Manitoba; and a full renovation of the Church of Scientology in Toronto. Also on the horizon, on 190 acres just outside Toronto, is the Scientology Advanced Organization and Canada's Continental Liaison Office to coordinate Scientology expansion and social betterment programs nationally.
Dignitaries participating in the dedication of the new Church included the Honorable Alvin Curling, former Speaker of the Legislative Assembly of Ontario and now Senior Fellow at the Center for International Governance for Innovation; the Honorable Pamela Appelt, a judge in the Court of Canadian Citizenship and a patron of the International Centre for Human Rights and Democratic Development; and Mr. Alan Stein, noted religious freedom and human rights attorney and Professor of Law.
In his address, Mr. Curling said, "Let this new home for the Church of Scientology in Québec be a beacon to all men and women of goodwill—a place where they will always be welcome to work together in helping this world. Bringing together people of goodwill is a hallmark of the Church of Scientology, which is why I celebrate this new Church with you today."
The three-story stone and glass structure, spanning a city block, has undergone extensive renovation to accommodate all Scientology religious services and provide for the many community betterment and humanitarian programs inherent to Scientology.
In opening the dedication, Mr. Miscavige noted that this day gave new meaning to the Québec motto "Je me souviens—I remember."
Mr. Miscavige then spoke of the Church's global humanitarian programs and how the new Church in Québec would serve as "an introduction to every ounce of L. Ron Hubbard's technology—available to everyone, and all just for the asking.
"Our Technology for learning and literacy—thus far presented to 31 million students across 67 nations.
"Our Drug Rehab and Prevention programs—thus far to the benefit of 800 million at-risk kids.
"Our Human Rights Awareness Campaign—this one presenting the Universal Declaration of Human Rights to just under a billion people.
"Our Way to Happiness—now on film to overcome reading barriers and ready for international broadcast to entire quarters of this planet.
"And our global army of Volunteer Ministers now literally saving lives by the thousands, even as I speak.
"All this and more is loaded into your new Ideal Org so that you may bring every bit of it to Québec."
In closing, he reiterated, "Let this new Church symbolize the fact that we not only remember Québec, we shall also never forget our commitment to her people—and all in the spirit of this from L. Ron Hubbard:
"'When you leave here today and walk out into the world, remember the tools of life that you have and your role to use them to help your fellows.'"
Accompanied by Scientologists from Québec who led the drive to build the new Church, Mr. Miscavige cut the ribbon and invited all to enter.