BRUSSELS, BELGIUM
THE FIRST BRANCH OF CHURCHES OF SCIENTOLOGY FOR EUROPE OPENS IN BRUSSELS
JANUARY 23, 2010
Nearly 1,000 Scientologists and their guests from across Europe attended the dedication of the Brussels branch of the Churches of Scientology for Europe on January 23, 2010. A representative of Church of Scientology International, the Mother Church of the Scientology religion, officiated at the ceremony held in the early-20th-century historic structure at Boulevard de Waterloo 100-103.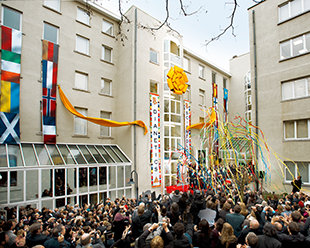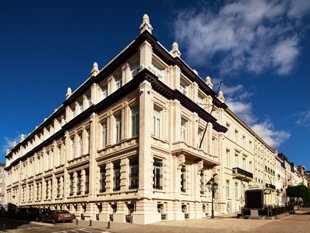 The event marked the beginning of a new era for Scientology parishioners and all residents of Belgium and Europe, for it is from this Church that Scientology will deliver L. Ron Hubbard's effective solutions to uplift society on behalf of all.
Distinguished guest speakers participating in the dedication included the Honorable Hugo Coveliers, Senator in the Belgian Parliament; Professor Abolfazl Beheshti, Professor of International Relations and Energy Economy at the University of Lille, France; the Honorable Juan Ferreiro, Deputy Director General for Religious Affairs at the Spanish Ministry of Justice; Ms. Katalin Szomor, expert member of the Drugs Commission of the Hungarian Parliament and former National Drug Coordinator; and the Reverend Christopher Vonck, Rector of the Faculty for Comparative Study of Religions at the University of Antwerp.
In his address to the Scientologists and guests, Senator Coveliers declared, "This new Church in the capital city of Europe stands as a beautiful testament to your help, and you can be certain of my continued support. You care for people, and this Church is such an example of this attitude."
The new Church in Brussels has undergone extensive renovation not only to accommodate all Scientology religious services but also to provide the community services and humanitarian programs of Church members.
The 88,000-square-foot Church includes an expansive Information Hall housing a multimedia exhibit describing the religion's beliefs and practices and the life and legacy of Scientology Founder L. Ron Hubbard. All Church-sponsored humanitarian and social betterment programs are also presented here, including Scientology's answer to crime, drug abuse, illiteracy, declining moral values and natural disasters. These programs represent the work of Churches of Scientology in servicing every community in which they reside as well as other communities the world over.
Also representative of this new Ideal Church is an accommodating chapel for congregational gatherings, which also serves as a chapel for Sunday services, weddings and naming ceremonies; a Documentation Center containing the written and spoken materials of L. Ron Hubbard; rooms for religious training and religious counseling; and Public Affairs offices to coordinate human rights initiatives across Europe with like-minded organizations.