JOHANNESBURG, SOUTH AFRICA
DIVERSE COMMUNITY WELCOMES NEW LIFE IMPROVEMENT CENTRE IN JOHANNESBURG
MARCH 26, 2010
Traditional African music marked the opening of a new Scientology Life Improvement Centre on March 26, 2010, as one thousand university students, community and government leaders, artists and local Scientologists crowded Station Street in Johannesburg for the dedication.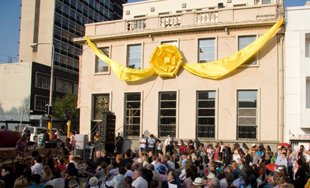 The Centre is located near the University of Witswatersrand (WITS) in the Braamfontein district of the city, and so serves a richly diverse community whose common goal is expressed in the district's motto: "The place where people rise to greatness." As master of ceremonies, the Centre's director, Edmund Dladlu, pledged to work with the community to make this motto a reality.
Special guest speakers reflecting the diversity of the district included Commander Eddie Mboweni of the Hillbrow Police Precinct, who spoke of the partnership between his officers and the Church's anti-drug and human rights education campaigns. "The Centre is well-placed here," said Commander Mboweni, "and we are looking forward to working together with the Church regarding programs that will assist in fighting crime and improving the quality of life for the citizens in this area."
Scientologist and music producer Robin Hogarth described how Scientology has helped him in his work to bring the music of South Africa to a wider audience—including producing Blessed and African Spirit with the Soweto Gospel Choir, both of which won Grammy Awards for Best Traditional World Music Album, in 2007 and 2008 respectively. "This is for you," said Mr. Hogarth. "It is for all—painter, king, poet, worker, student, musician, husband and wife. For Braamfontein, for Johannesburg, for South Africa and for Africa herself. And this is why I am so proud to stand here on this momentous occasion. This Life Improvement Centre opens the door to a new future, a brighter life, an African renaissance."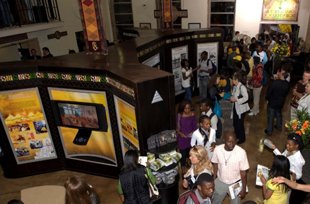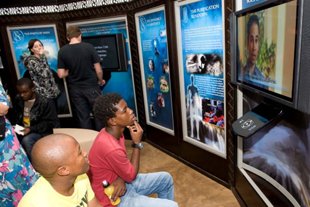 Likewise addressing those in attendance was Ms. Phumzile Zuma, daughter of South African President Jacob Zuma. "Imagine a world where everyone is clear as to exactly what is wrong and what is right," she said. "Imagine a world where you can achieve your goals and purposes while being at peace with yourself and those around you. Well, fellow South Africans and students, I have come to realize we can achieve that with the tools this new Scientology Life Improvement Centre is bringing into our neighborhood."
Member of Parliament Setlamorago Thobejane—General Secretary of the Congress of Traditional Leaders and Chair of the Institute of African Royalty—also took to the stage. "The Founder of Dianetics and Scientology, L. Ron Hubbard, was a true leader amongst men," said Mr. Thobejane. "I learned that Dianetics was but his first step in a path to total spiritual freedom and that he has brought to us all the tools we need to improve our lives, no matter what is holding us back. Most remarkably, for a man whose every way has proven true, he prophesied that the next great civilization on this planet would arise, of course, from the Southern part of Africa."
The ceremony concluded with the traditional cutting of the ribbon, signifying the official opening of the Centre. Hundreds poured in to tour the Public Information Center, viewing films and multimedia presentations describing Scientology beliefs and practices, the life and accomplishments of L. Ron Hubbard, and the social betterment and community outreach programs of the Church, both in Africa and throughout the world.