SYDNEY, AUSTRALIA
NEW IDEAL ORG IN THE HEART OF AUSTRALIA'S HARBOR CITY
MAY 3, 2014
On the evening of May 3, more than 2,500 Scientologists from across Australia filled Castlereagh Street to inaugurate the Harbor City's new Church of Scientology Ideal Organization (Ideal Org).
In honor of the historic occasion, the ecclesiastical leader of the Scientology religion and Chairman of the Board Religious Technology Center, Mr. David Miscavige, traveled to Sydney to lead the dedication ceremonies.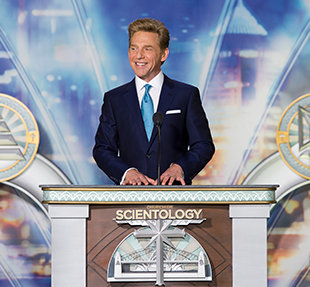 The Church's home, a heritage site originally constructed in 1908, overlooks Hyde Park and stands amid several of the city's most treasured landmarks—including Town Hall, the Queen Victoria Building and Sydney Tower. The Church meticulously restored the building's historic features, most notably the brick pilasters and bronze-glazed glass curtain that distinguish its Castlereagh façade.
The Church further completed 21st-century upgrades to the entire structure, as well as the addition of two full stories. As an Ideal Org, the building now accommodates the Church's ever-growing congregation and serves as a hub for people of all faiths and cultures across New South Wales.
In his ceremonial address to the more than 2,500 Scientologists present, Mr. David Miscavige said: "There's a new sign in the southern night skies and it points to something never seen before—your Ideal Org of Sydney. That it opens directly in the wake of what is a whole new Scientology world lends it even more significance. Because for all the help you thus far extended to the millions, you now possess the means—in this, our Golden Age—to uplift this city and this nation with the unqualified freedom of Scientology."
National and state dignitaries welcoming the new Church included National Member of Parliament, the Honorable Julie Owens; President of the Australian Human Rights Council for Education and Medal of the Order of Australia recipient, Dr. Sev Ozdowski; Programs Manager, Young Offenders Support Service, Ms. Kalisi Bese; and Aboriginal Elder of the Dunghutti People, Mr. Bill Allen.
In her salutatory address, the Honorable Julie Owens MP said: "We have an Australia rich in diverse faiths and cultures. And you are a bold new part of our 21st-century landscape. Indeed, seeing your new home shine brightly in the center of this city, it is certainly a perfect fit for our contemporary Australia."
President of the Australian Human Rights Council for Education, Dr. Sev Ozdowski OAM, honored the human rights work of Australian Scientologists: "Human rights require a constant alertness to maintain them and an understanding of what you are maintaining. You have to understand something before you can do it and only then can we make human rights real to people. That is why you have dedicated yourselves to this field for the past 60 years. And so let this be a marvelous center for your vital humanitarian work across all Australasia."
Programs Manager for the Young Offender Support Service, Ms. Kalisi Bese, acknowledged all those present for their social outreach: "In our years of work together, we have partnered on events, focus groups, forums, meetings, training and workshops that span all your social programs. The lives of those we reach change dramatically. Indeed, their stories vary but their theme is common. They are thankful our paths crossed when in need—and another life is saved."
Aboriginal Elder of the Dunghutti People, Mr. Bill Allen, spoke of his experiences working with the Church: "We first came to know each other in 2008. I was struck by the friendship I found and how well people worked together. I attended a summit with you and there we were: Maoris, Aboriginals and Scientologists. We were undivided, and you were the ones who provided the bond and demonstrated a universal respect for both our traditional cultures. And for that you have gained my utmost respect."
_________________
The Harbor City's new Ideal Org provides all visitors with an introduction to Dianetics and Scientology, beginning with the Public Information Center. Its displays, containing more than 500 films, present the beliefs and practices of the Scientology religion and the life and legacy of Founder L. Ron Hubbard. The Information Center also offers a detailed overview of the many Church-sponsored humanitarian programs—including a worldwide human rights education initiative; an equally far-reaching drug education, prevention and rehabilitation program; a global network of literacy and learning centers; and the Scientology Volunteer Minister program, now comprising the world's largest independent relief force. The Center is open morning to night for visitors to tour at their leisure and return as often as they wish.
The Church's Chapel provides for Scientology congregational gatherings, including Sunday Services, Weddings and Naming Ceremonies as well as a host of community-wide events open to members of all denominations. The new Ideal Org further includes multiple seminar rooms and classrooms, in addition to an entire floor dedicated to Scientology auditing (spiritual counseling).
_________________
The grand opening follows a period of epic expansion for the religion. Indeed, the past six months have seen: