TOKYO, JAPAN
EPIC SCIENTOLOGY SUMMER CONTINUES WITH OPENING OF TOKYO IDEAL ORG
AUGUST 8, 2015
Glorious new era lifts off in Land of the Rising Sun with auspicious ribbon-cutting on majestic new spiritual center for a religion in the midst of game-changing expansion.
Adding yet another shining beacon of hope and freedom in a year of extraordinary achievement, the Church of Scientology welcomed its new Ideal Organization in the bustling metropolis of Tokyo, Japan, on Saturday, August 8, before a captivated audience of more than a thousand—the Church's latest ambitious breakthrough during a period of unprecedented innovation and revolutionary growth.
This new Ideal Org stands in Shinjuku City, just minutes away from the world's largest train station and Shibuya, Tokyo's Times Square. The modern eight-story structure stands as a beacon of spirituality for the greater than 5 million people who flock daily through the surrounding district, not to mention the millions more who call Tokyo home.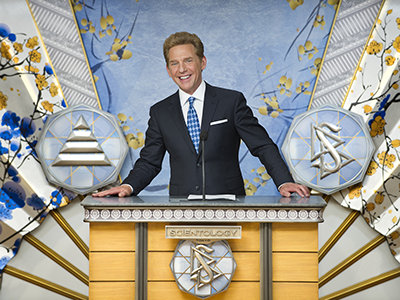 A festive spirit gripped the grand event officiated by Mr. David Miscavige, Chairman of the Board Religious Technology Center, who noted to those gathered, "This is the next chapter in your magnificent journey and altogether epic future. Let it be a future bearing the hallmark of help. And let that help touch one's family, one's friends, one's nation and ultimately all Mankind. With this inauguration, we have arrived at our destiny—where we provide our technology with unrestrained dedication and determination. So that this land, in turn, may empower every human soul."
Indeed, the opening served to fulfill an aim long sought by Scientology Founder L. Ron Hubbard decades before in a letter sent to an associate in Japan. It read in part, "I greatly respect the Japanese as a people. I have always considered Japan the hope of Asia."
In recognition of Tokyo's long dedication to working with Church-sponsored humanitarian programs and its legacy, and in honor of the historic impact of Scientology in the Asian nation, dignitaries from up and down the islands were on hand to personally welcome the Ideal Org's celebrated launch.

Joining the Scientology parishioners and Church officials were Mr. Masami Saito, Member of Parliament for Miyagi Prefecture; Mr. Tomoo Furubo, Member of the Toshima City Assembly in Tokyo; Mr. Takayuki Shirota, Director of the Learning Support Institute; and Mr. Tomoki Hirabayashi, General Secretary of the national nonprofit Challenge Again Tokyo.
Mr. Saito praised the Church as a "true humanitarian organization" while adding, "Your social programs, such as the Scientology Volunteer Ministers and The Way to Happiness, are fantastic from the viewpoint of international humanitarian objectives."
Speaking personally, Mr. Saito added, "Scientologists bring help to the millions. But I can also tell you how Scientologists bring help to one: Me. Because following the Great East Japan Earthquake and tsunami that swept my city away…your members, the Volunteer Ministers, were there clearing away debris from our collapsed house in the hope that our family members were there. We were so impacted by their sincere attitude. They showed such skill and discipline. Your humanitarian attitude was touching to the core. You even provided bicycles to people through the city that had this little message that meant so much to us: 'Don't give up, Japan!'"
In highlighting Scientologists' extraordinary efforts to combat drug abuse, Mr. Furubo recalled how in 2012, quasi-legal narcotics known as "legal herbs" were spiraling out of control in Japan, leading to overdoses, violence and death.
"Your information gave me the solid policy I needed," Mr. Furubo said. "Our assembly officially chose to partner with your organization. Now, move forward to today, and there are no more shops that sell legal herbs in Japan—thanks to the Scientologists!" He added, "I want to tell you from the bottom of my heart that your contribution to our community is magnificent. I admire the duty and sense of obligation you demonstrate in leading individuals, families, society and the world in a better direction. 'Wa' is the law of respect and mutual cooperation that runs through our culture. And this Ideal Org and what it promises embodies that 'Wa'."
Mr. Shirota noted how he'd had the "very good luck" of learning how Mr. Hubbard's Study Technology "injects the power to live into a new generation. Mr. Hubbard is a giant star of practical education. And with his technology we are witnessing the dawn of a renaissance of learning!" He added that with the opening of the new Ideal Org, "We have a home for Study Technology to teach every student of Tokyo. Study Tech will shine forever as a bright hope for mankind. So let's inform every world educational institution of it to improve the future of our children."
As that future dawned for all the people of Japan over the weekend, the impact of the Ideal Org on the nation was deeply felt by Mr. Hirabayashi. He proclaimed during the opening event, "With Scientology, I see a new kind of religion. A religion with a viewpoint to handle the society proactively and practically."
Mr. Hirabayashi also cited as an example the Church-sponsored mental health watchdog group Citizens Commission on Human Rights (CCHR). He said, "We must end the over-drugging of our population at the hands of psychiatry before they halt the progress of our nation. I believe the future of Japan is laid on the shoulders of our children. My purpose is to create a culture where kids can grow up healthy, carry the future of the country on their shoulders and be of service to the world. And with more people like you acting to stop these rights abuses, we will safeguard that future!"
Tokyo's new Ideal Organization presents all visitors with an introduction to Dianetics and Scientology, beginning with the Public Information Center. Its displays, containing more than 500 films, present the beliefs and practices of the Scientology religion and the life and legacy of Mr. Hubbard.
The Information Center also offers a detailed overview of the many Church-sponsored humanitarian programs. These include a worldwide human rights education initiative; a far-reaching drug education, prevention and rehabilitation program; a global network of literacy and learning centers; and the Scientology Volunteer Ministers program, held in the highest regard by the thousands of Japanese who received its help after the 2011 tsunami and now representing the world's largest independent relief force.
The Ideal Org of Tokyo also features a Chapel for Scientology congregational gatherings, including Sunday services, weddings and naming ceremonies as well as a host of community-wide events open to members of all denominations. The Ideal Org further includes multiple seminar rooms and classrooms, in addition to an entire floor dedicated to Scientology auditing (spiritual counseling).
_________________
The Church of Scientology has enjoyed greater expansion during the past decade than in the previous 50 years combined. The first half of 2015 bears this out, marked by historic achievements and monumental openings for the religion.
These include the July 18 grand opening of the new Ideal Continental Liaison Office in East Grinstead, United Kingdom; the July 11 opening of the Scientology Information Center at the Church's spiritual headquarters in Clearwater, Florida—along with six new centers to make Church-supported humanitarian programs readily available to the Clearwater community; the dedication of the majestic Ideal Church of Scientology in Bogotá, Colombia, on July 5; and the opening in April of another Ideal Church of Scientology where France, Germany and Switzerland converge: in Basel, Switzerland.
The Church now operates more than 40 Ideal Organizations across six continents. More openings are planned in cultural epicenters in Australia, Africa, Europe and North America in the year ahead.