PASADENA, CALIFORNIA
NEW IDEAL CHURCH OF SCIENTOLOGY WELCOMED TO HISTORIC HOME IN CITY OF ROSES
JULY 18, 2010
On July 18, 2010, over four thousand Scientologists and their guests packed the street before 35 South Raymond Avenue in the heart of Pasadena's Old Town, for the grand opening of the new Church of Scientology in the City of Roses.
On July 18, 2010, over four thousand Scientologists and their guests packed the street before 35 South Raymond Avenue in the heart of Pasadena's Old Town, for the grand opening of the new Church of Scientology in the City of Roses. Mr. David Miscavige, Chairman of the Board of Religious Technology Center and ecclesiastical leader of the Scientology religion, addressed the crowd and dedicated the historic, 58,000-square-foot building, calling it "a whole new breed of Scientology Organization—one only previously dreamed of for this city."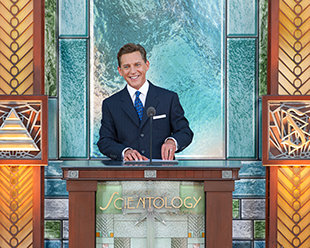 Located in one of the busiest pedestrian districts in the Greater Los Angeles Area, this turn-of-the-century monument has been preserved in a unique blend of old and new. Its heritage is reflected in the restored Beaux Arts exterior, its classic four-story skylit galleria, as well as its furnishings and stained-glass windows in the Arts & Crafts style.
While with attention to 21st century energy-conscious planning and construction, the new Church meets LEED (Leadership in Energy and Environmental Design) requirements for environment-friendly building materials, energy equipment, lighting systems, reduced water consumption and more.
Underscoring the importance of this new Church to both Pasadena and communities throughout the San Gabriel Valley, Mr. Miscavige said, "You are now part of a movement like nothing in our history, and it is gaining momentum by the day. Because, in all sincerity, we are dedicated to helping the whole face of humanity. In that respect—and however all-encompassing and globally embracive is Scientology today—let no one forget that humanity is comprised of individuals. Each is unique, in his or her own way, and each has a story that will break your heart—if you don't do something about it. So take this Ideal Organization and make the most of it. Because, yes, there is indeed a lot of help we must now bring to bear. And that is the pledge we make today, to the City of Pasadena."
Also commemorating the occasion were local officials and dignitaries from this historic city.
Welcoming the new Church, Pasadena Mayor Bogaard said, "With this beautifully restored structure in Old Pasadena, the Church of Scientology represents not only a growing religion, but an important factor in the future of this city. ... So, it is a pleasure for me to extend a cordial welcome to you and this extraordinary Church of Scientology of Pasadena with its long history of service to the community."
Architectural historian, preservationist, and board officer of Pasadena Heritage, Teresa Grimes, likewise addressed those in attendance. "The Church of Scientology has purchased, rehabilitated and restored historic buildings throughout the world," she said, "and by doing so, has helped revitalize the communities in which they are located. … For not only have you preserved the physical past, you have also gone out of your way to care for tomorrow both culturally and spiritually. Your commitment to our community has been nothing less than outstanding, and I only hope that others will follow the example of the Church of Scientology."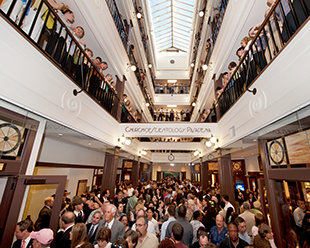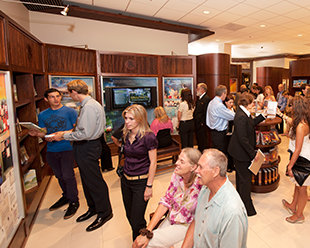 Pasadena Chamber of Commerce President and CEO Paul Little further spoke of the role the Scientology Church plays in the local community. "Your Church is a vital part of the Chamber," he said, "and your members are active throughout this city. You are always there, helping with the annual Tournament of Roses events, your public service sponsorship of Pasadena artists, or your social campaigns that are themselves a brilliant example of artistic expression—and humanitarian concern. Your devotion to the people of this city, your ability to enhance the quality of our life wherever you work—that's what I've come to know as the hallmark of the Church of Scientology."
Speaking on behalf of the interfaith community, Pasadena Ministerial Association President Dr. Nicholas Benson also took to the stage. "For all of Pasadena," he said, "this day represents more than an opportunity to welcome a friend to their new home. This is a Church, an open haven where we have the opportunity to help ourselves, our loved ones and the community. I encourage everyone to make the most of this Church, and like me, take what it has to offer."
Beyond its services for parishioners, the new Church features an extensive first-floor Public Information Center, just off the galleria. Its multimedia displays present and illustrate Scientology's beliefs, the life of its Founder, L. Ron Hubbard, and the full array of the Church's social betterment and community outreach programs.
The Church of Scientology of Pasadena is the sixth new Scientology Church (and the second in Los Angeles County) to open in 2010. Another six new Churches of Scientology are scheduled for completion before the end of this year.