BAJA, CALIFORNIA
VOICE FOR HUMANITY:
HELPING BAJA YOUTH ESCAPE THE GRIP OF DRUG CARTELS
AUGUST 15, 2014
"Drugs have no economic boundaries. They have no religious boundaries. They have no geographical boundaries. And it really affects all youth across the board," says John Redman, Executive Director of Californians for Drug-Free Youth.
He began a program to reverse the drug problem in Baja, California—a problem he describes as "horrendous."
"Kids were ending their education early, dropping out. And they weren't going into gangs anymore," he says. "They weren't even going into drug trafficking organizations. They were going straight to drug cartels and starting to work for them…ending their youth, ending their education, ending their childhood."
His answer: to get to youth first with the facts—help them understand what it really means to themselves and their families if they decide to turn to drugs; how drugs will ruin their lives. To create that kind of impact, Redman decided to use The Truth About Drugs curriculum.
"I've worked on a number of educational programs on substance abuse," he says. "I haven't seen anything that is as comprehensive, but maybe more importantly, that is geared towards youth. The curriculum of The Truth About Drugs—it presents it in a very visual way that captures the youth's attention."
Redman is passionate about his work. "We really have that mission of drug-free youth, safe and drug-free communities," he says. "That's our mission. That's our goal."
---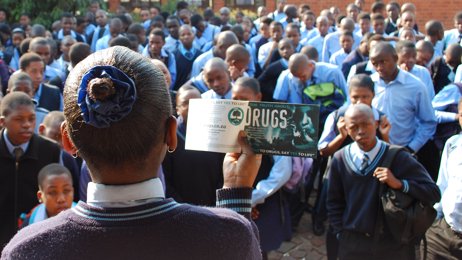 Find out more about the Truth About Drugs Education campaign and what the Church of Scientology does to support effective drug education and prevention initiatives.