EAST GRINSTEAD, UNITED KINGDOM
30 YEARS OF THE IAS: A LEGACY OF GLOBAL BETTERMENT
OCTOBER 17, 2014
It all began in 1984, a time when Scientology could be found in just 39 nations on the planet. Thirty years later, members of the International Association of Scientologists (IAS) hail from 130 countries across North America, South America, Europe, Asia, Africa and Australia, fortifying the Church's stature as the only world religion to emerge in the 20th century that's also thriving well into the 21st.
The Church of Scientology's singular distinction as an ever-evolving and expanding international force was on impressive display in a rousing 2 1/2-hour celebration the night of October 17 at Saint Hill, Scientology Founder L. Ron Hubbard's historic home. Some 7,500 Church members from throughout the world converged on the United Kingdom to mark the 30th anniversary of the International Association of Scientologists in a bracing and momentous presentation that honored a movement whose reach spans every corner of the globe.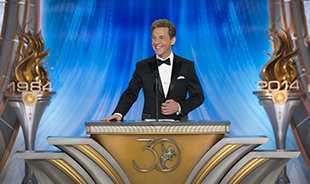 Mr. David Miscavige, Chairman of the Board Religious Technology Center, presided over the event that cast a magnifying glass on the IAS's considerable achievements during its first three decades while also shining a vivid light on three outstanding individuals who earned 2014 IAS Freedom Medals for their tireless work on behalf of Scientology and IAS-sponsored humanitarian campaigns. The wider spotlight fell on Scientology's robust and dynamic work in battling drug abuse, human rights offenses, and the scourge of psychiatric brutality throughout the planet.
"Tonight we celebrate three decades of the IAS and a place that was all but inconceivable just 30 years ago," Mr. Miscavige began. He remarked that Scientology is "the only movement transcending every national, cultural and demographic barrier... and that's not even counting what we transcend in terms of physical universe space and time."
But based on what emerged over the next two hours, space and time truly did seem to be transcended in detailing a vast roster of accomplishments attained over the past year alone along with ambitious plans for the year ahead.
It includes the continued ramping up of campaigns to rid the world of psychiatric abuse; an anti-drug education program designed to eradicate pandemic substance abuse through the Truth About Drugs program; a human rights crusade, enlightening populations to the Universal Declaration of Human Rights; The Way to Happiness campaign, whose precepts help to restore the bonds of humanity and basic decency of humankind; and the Scientology Volunteer Ministers, on call 24/7 and providing help to the devastated and traumatized in times of greatest need. All of the campaign achievements were presented with a multi-ethnic and multi-cultural array of breathtaking visuals and far-reaching statistical data.
It led into Mr. Miscavige's introduction of a monumental accomplishment: a network of sprawling Ideal Narconon training centers serving every continental zone. This string of facilities serve to aid those caught in the throes of drug abuse to rehabilitate their minds and bodies. Each is elegantly appointed and set in areas of pristine pastoral grandeur. They include premises in East Sussex, England; Ontario, Canada; Hovedstaden, Denmark; Mexico State, Mexico; New South Wales, Australia; Gauteng, South Africa; and finally, a glorious hilltop estate in picturesque Ojai, California. Every one of the facilities stands as a crown jewel in its own right, offering beautiful vistas and luxurious accommodations in which to detox and rehabilitate.
Mr. Miscavige next unveiled a future Ideal Advanced Organization and Continental Base for Australia and the Asiatic region. Marking a new era for Scientology in the southern hemisphere, the facility extends 130 thousand-square-feet and overlooks Sydney's Lane Cove National Park. Here, Scientologists from Tasmania to Tokyo will traverse the upper realms of the Bridge to Total Freedom.
Adding to the evening's luster were the IAS Freedom Medal winners, whose three presentations were interspersed throughout the night. Bestowed on Scientologists who forward the purpose of the IAS by aiding their fellow man, this year's honorees included:
Vlastimil Spalek, a Czech "cyclorunner" who crisscrossed his nation by bike and on foot, spearheading a Truth About Drugs movement to ultimately halt spiraling drug abuse in the Czech Republic. In making his acceptance, Spalek said, "I'm very proud to be part of this program and to help L. Ron Hubbard create a planet without drugs. Real drug education belongs to everyone. All ages, all classes. And by delivering it to them, we bring about understanding and confront."
Maria Lara, an exquisite actress from Bogotá, Colombia who energetically used the common-sense values of The Way to Happiness to galvanize industries and military personnel in five nations. In her acceptance, Lara stressed, "When I found Scientology, I found the real meaning of being an artist. The only reason to have power on this planet is to help."
Kate Ceberano, the Australian musical superstar who for some three decades has tirelessly championed Scientology as a humanitarian voice for freedom. She told the audience while accepting her Freedom Medal, "It has taken a tribe to help keep the show on the road. And by that, I mean three generations of my family, all supporting the IAS and who will continue to do so until society has all the tools necessary to bring about sanity and an improved culture."
The following evening, October 18, more than 2,000 Scientologists gathered for the IAS Patrons Ball, an elegant black-tie affair in the Grand Marquee where the newest patrons were acknowledged for their dedication in furthering the IAS humanitarian movement advancing the Scientology aims for a better world.
_________________
The International Association of Scientologists, a membership organization open to all Scientologists from all nations, was formed in 1984. The purpose of the IAS is to unite, advance, support, and protect the Scientology religion and Scientologists in all parts of the world so as to achieve the Aims of Scientology as originated by L. Ron Hubbard: "A civilization without insanity, without criminals and without war, where the able can prosper and honest beings can have rights, and where Man is free to rise to greater heights."