LOS ANGELES, CALIFORNIA
TIME FOR CELEBRATION: SCIENTOLOGY HONORS YEAR OF RECORD GROWTH AND WELCOMES A 2018 FULL OF POTENTIAL
NEW YEAR'S 2018
Thousands joyously ring in the New Year and reflect on a run of unbridled achievements in the name of a better world.
The atmosphere was electric and the anticipation almost tangible as a record number of Scientologists gathered in the Shrine Auditorium for the live Scientology New Year's celebration. The occasion marked the close of a miraculous 2017—it was most certainly time to celebrate a season of realizing expectations, achieving targets and, naturally, setting new ones.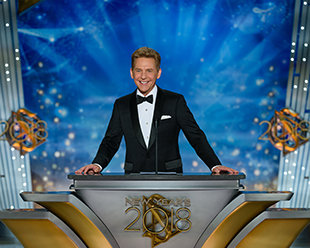 "Yes, tonight's the night we ring in a New Year and ring out an old," declared Mr. David Miscavige, the ecclesiastical leader of the Scientology religion. "So, while others tell tales of Father Time, the Lord of Time, time immemorial, time inconceivable, time after time, and, 'just in the nick of time'—well, we are the exception to the rule that 'time waits for no one,' if only for the fact time is always on our side. So, while everyone else has a 'devil of a time' comprehending who we are, in light of all we accomplished in the last twelve months—this, my friends, is show time!"
And just like that, Mr. Miscavige set the stage for a majestic celebration that pulsed with excitement as visual highlights of achievements rolled out minute by minute. Highest ever after highest ever accomplishments underscored an unparalleled year. Further headlines spotlighted the Church's renowned international humanitarian efforts as well as a breathtaking review of the over half-million square feet of new churches dedicated in the past year. The run of glorious Grand Openings across 2017, include:
This unrelenting wave of expansion generated continuing recognition of the religion in nations around the globe. Indeed, crowning a 2017 of immense achievement, Mr. Miscavige announced to the roaring crowd, an epic accomplishment and one coming in the wake of religious recognitions in the Republics of Macedonia and Colombia. Because, on October 30, 2017, the nation of Mexico awarded the Church of Scientology full religious recognition—a landmark triumph for Scientology and religious freedom.
Punctuating the evening's announcements and presentations was a cross-cultural carte du jour of L. Ron Hubbard's Technology stimulating cultural resurgence in myriad nations:
Association for Better Living and Education (ABLE)—where secular and charitable programs deliver strategies designed to curb and eradicate drug addiction, illiteracy and crime. In East Sussex, England, where a prestigious boarding school used their nationally accredited syllabus, founded upon L. Ron Hubbard's Study Technology, to garner test scores 70 percent above countrywide averages and inspire a new generation of British thinkers. In Tegucigalpa, Honduras, where a government minister employed The Way to Happiness and its 21 precepts of universal morals in 2,000 of the world's most violent schools, after which the country saw a 20 percent drop in crime. And in continental Europe, where across a network of 20 rehabilitation centers, Narconon has salvaged some 40,000 from addiction.
World Institute of Scientology Enterprises (WISE)—Included in this year's tales of L. Ron Hubbard's Technology for prosperity at work is a central Florida executive who used administrative tools to streamline exhilaration into the fastest-growing adventure parks in America. In similar fashion, a South African entrepreneur applied LRH Admin Tech to a set of dormant granite mines, generating expansion of 40 times over in just three years and supplying the highest quality granite to more than 750 international corporations. And then there's the Japanese CEO who used organizational skills for harvesting, quality control and even packaging some 77 green tea products, processing over eight million pounds of tea and thereby creating the number one green tea company in the world.
International Hubbard Ecclesiastical League of Pastors (I HELP) and Scientology Missions International (SMI)—The advanced guard of Scientology on behalf of humanity. Featured success stories included an Indian practitioner who formed a multi-faith group of students to ultimately reach over 200,000 Sikhs, Muslims, Hindus and Christians with Dianetics: The Modern Science of Mental Health. In Quito, Ecuador, amidst a cocaine corridor turning six-year-olds into users, one mission Executive Director partnered with National Police and thereby blanketed her city with Scientology-sponsored humanitarian programs, ultimately reaching 40 percent of the nation. Finally, there were three striking new missions of Scientology dedicated over the past few months in Louisiana, USA; Senigallia, Italy and Taichung, Taiwan, each of which have expanded five times over since grand opening.
A record number of Power Field Staff Members (FSMs) from 37 nations were also honored for having escorted at least 100 people onto and up the Bridge to Total Freedom. This year further saw an unprecedented four individuals achieve the status of Elite FSM, recognizing their achievement of having helped 1,000 people onto and up the Bridge.
With a finale full of flashing lights, bursts of confetti and leaping melodies—the curtain fell both on a stellar celebration and an all-star 12 months for the religion that could barely be packed into a single night. If 2017 is any indication, it's no surprise that Scientologists across the globe are already anticipating a 2018 set to shatter all previous expectations.