DAVID MISCAVIGE:
The Freewinds
Scientology's Religious Retreat At Sea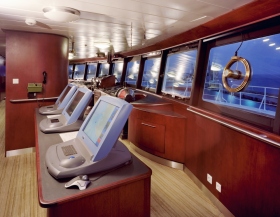 The Freewinds began service as a Church of Scientology religious retreat in 1988. The 440-foot motor vessel provided a distraction-free environment for parishioners to study and experience the highest level of spiritual counseling available in the Scientology religion.
After the ship's first 20 years of service, she underwent a full refit and restoration.
The refit was the largest in her history. Far more than a cosmetic upgrade, the ship was stripped from stem to stern, below the water line to the top of her stacks—all six decks. She emerged a fully redesigned, technologically advanced vessel—the ideal religious retreat for ministering religious services.
In June 2008, Mr. Miscavige was joined by the current and former Prime Ministers of the Netherlands Antilles in the Freewinds home port of Curacao to rechristen the Freewinds on her 20th anniversary and commemorate her Maiden Voyage as a wholly refit ship.