NATIONAL AFFAIRS OFFICE, WASHINGTON, D.C.
Conceived to address challenging social issues confronting America, the National Affairs Office of Washington, D.C. was created by the Church of Scientology in 2012 and dedicated to the support of the Church's humanitarian efforts.
PHOTOS
MAP
LOCATION
Address:
1701 20th St NW
Washington, DC 20009
United States


Contact Us
E-Mail
publicaffairs-us@churchofscientology.net Phone
(202) 667-6404
GRAND OPENING EVENT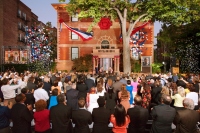 CHURCH OF SCIENTOLOGY OPENS NATIONAL OFFICE IN D.C. LANDMARK
On Wednesday, September 12, national dignitaries joined more than a thousand Scientologists and guests to celebrate the grand opening of the Church of Scientology's National Affairs Office in Washington, D.C.