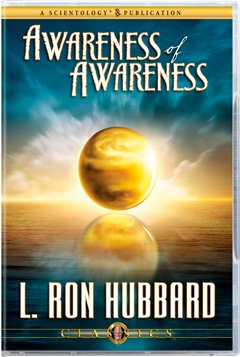 AWARENESS OF AWARENESS
It has no wavelength, position in space or location in time. It is what L. Ron Hubbard calls "a primary discovery in the field of humanity" and its isolation and identification have yielded the answers to the whole of life. With his detailed account of its potentials, the awareness of awareness unit disentangles from mass, meaning and mobility to shine brilliantly forth as the only source of all sorrow, happiness, goodness, postulates and goals. Read More
MORE ABOUT AWARENESS OF AWARENESS
Where you have ability, you have life. Where you have space, energy, mass…I don't care what kind of energy. The energy contained in your engrams. The energy contained in mental pictures. The space contained in your visios or lack of them. Anytime you have any quantity of any kind, you have walked downhill from life. Just like that. And this works out. This works out in processing, works out gorgeously. —L. Ron Hubbard
It has no wavelength, position in space or location in time. It is what L. Ron Hubbard calls "a primary discovery in the field of humanity," and its isolation and identification have yielded the answers to the whole of life.
The awareness of awareness unit.
Here is its relationship to matter, energy, space and time. Not only are these discoveries beyond the scope of the physical sciences, but they challenge—indeed, debunk—science's fondest myths about the physical universe. And with Mr. Hubbard's detailed account of its potentials, the awareness of awareness unit disentangles from mass, meaning and mobility to shine brilliantly forth as the only source of all sorrow, happiness, goodness, postulates and goals.
Here, then, is the delineation of the origin, nature and scope of a being.